Sales Policies - READ THESE BEFORE BUYING!!
I received Sales Permission from
denkimouse
on March 14, 2010.
I only accept PayPal.
I ship from the U.S. and I can ship internationally.
All prices are in U.S. dollars and do not include shipping costs or PayPal fees. Shipping fees may be rounded up to the next dollar just to be sure they are enough. If I end up overcharging you by a significant amount(i.e. more than $1), I will refund the difference. Otherwise, the difference will be put into my Shipping Materials Fund.
I am a very slow shipper! I work full-time 6:30AM-3:00PM CST Monday through Friday. That means my ability to go to the Post Office is pretty much limited to Saturdays, which are also my days to do all the rest of any errands I may have to do.
Do not "buy" if you cannot pay.
I will hold for 24 hours. I may hold longer under certain circumstances.
Do not ask about or claim something and then disappear. If it's too expensive for you, just tell me so I'm not wondering about it and so that other interested people can have a chance to buy the item.
I reserve the right to revoke a sale or refuse to sell to you to begin with if I so desire.
All items have been in a home with a cat and some of the items were also in a home with a dog. Please be aware of this if you plan to buy anything.
My feedback can be found here: http://community.livejournal.com/pkmncollectors/5132873.html It's at the bottom of the page. I'll fix the link once more feedback is added. Please leave me feedback once you receive your package.
Plush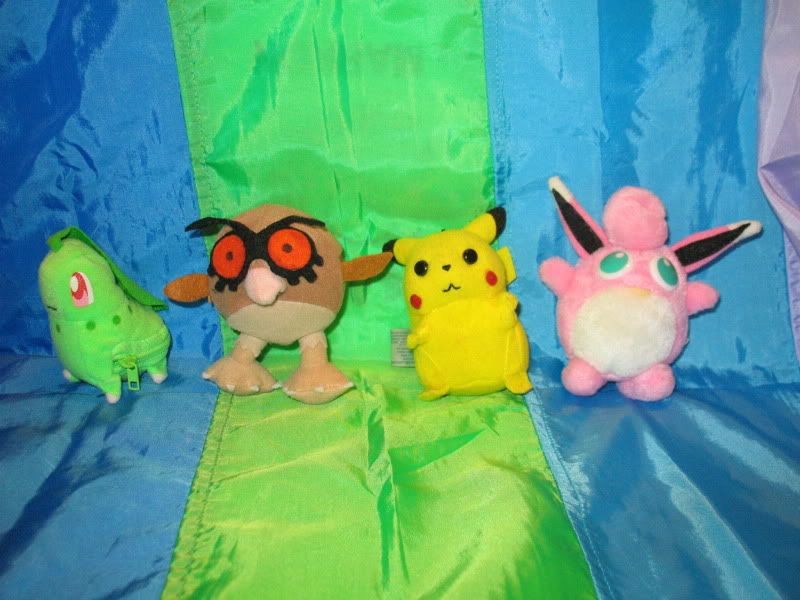 Reversible PokeBall Chikorita - $3.00
Reversible PokeBall Hoot Hoot - $1.00 (He's in pretty bad shape)
Pikachu Plush Keychain - $1.00
Wigglytuff Friends Plush - $5.00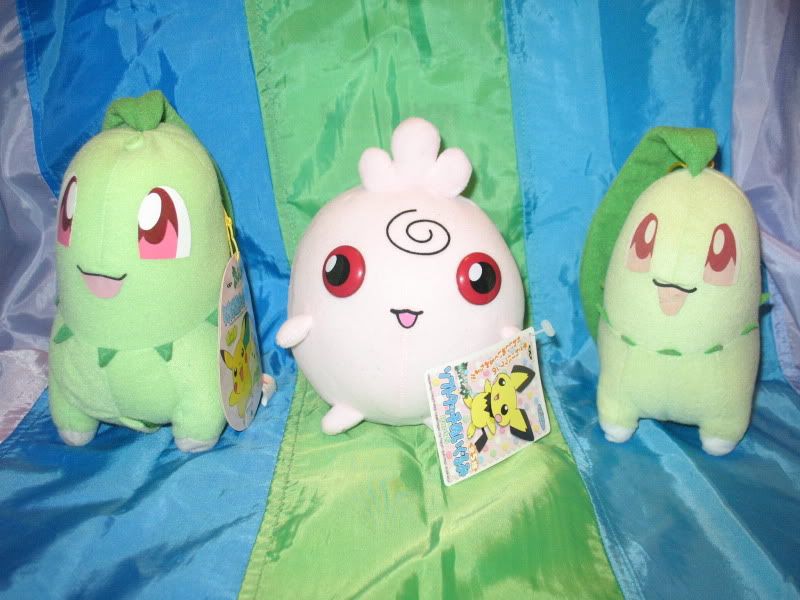 2000 Banpresto Talking Chikorita - $10.002000 Banpresto Igglybuff UFO - $3.002000 Banpresto Chikorita UFO - $6.00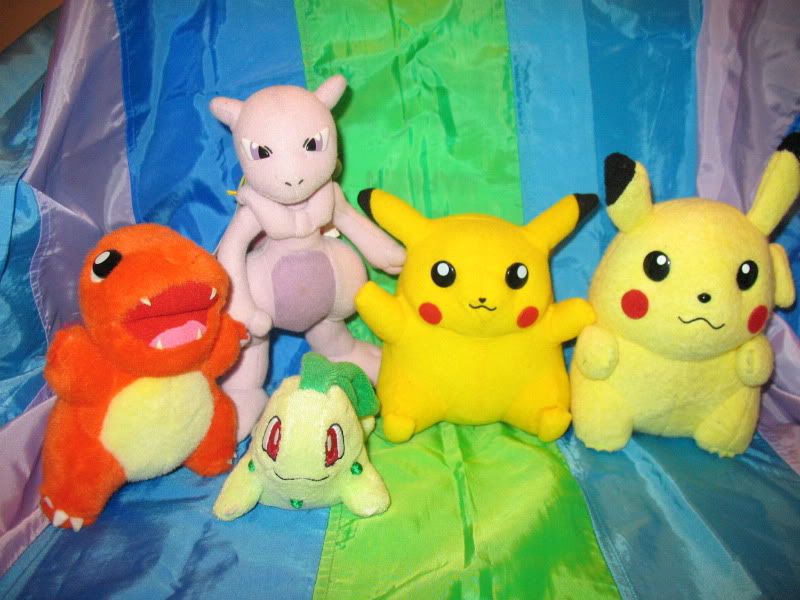 TOMY Charmander - $10.001999 Banpresto MewTwo UFO - $5.00TOMY Laying Terrycloth Chikorita(No hang tag) - $12.00
1999 Banpresto Pikachu - $7.00
1998 Banpresto Terrycloth Pikachu(No hang tag) - $10.00
Figures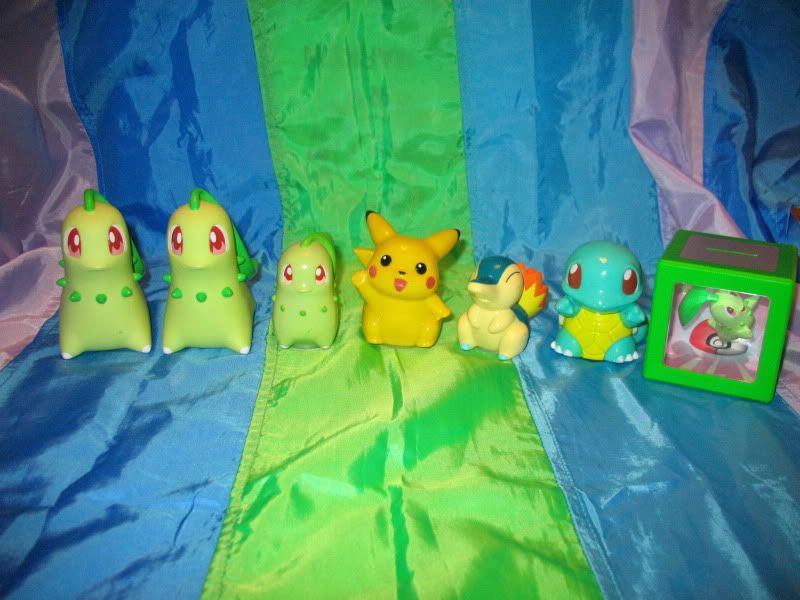 Larger Chikorita Figure Bank - $6.00 ~ ONE LEFT!
Smaller Chikorita Figure Bank - $4.00Pikachu Figure Bank - $4.00
Cyndaquil Figure Bank - $4.00
Squirtle Figure Bank - $4.00Square Chikorita Bank - $3.00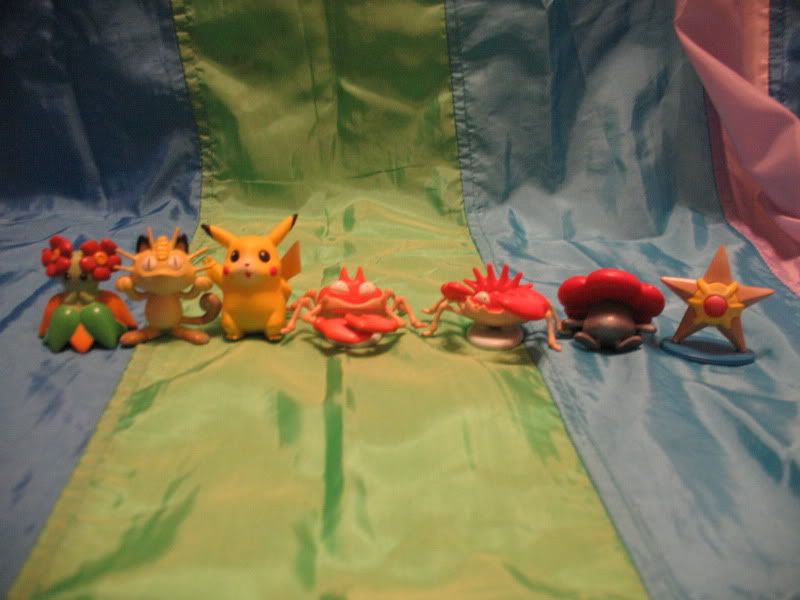 TOMYs - $2.00 each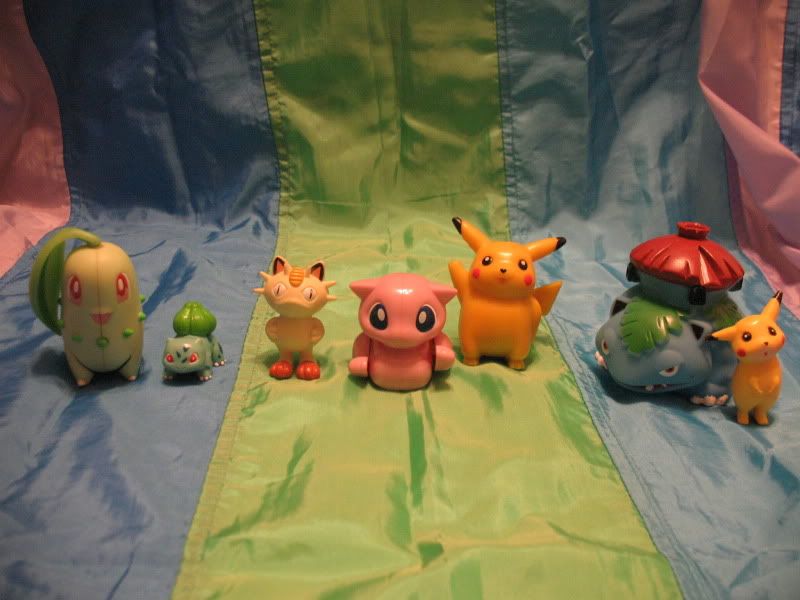 Walking Chikorita (May or may not work) - $3.00
Bulbasaur - $1.00
Meowth - $1.00
Walking Mew - $2.00
Pikachu Cake Topper - $1.00
Venusaur Squeeze - $2.00 (On hold for...someone...)
Pikachu (Missing the tail) - $0.50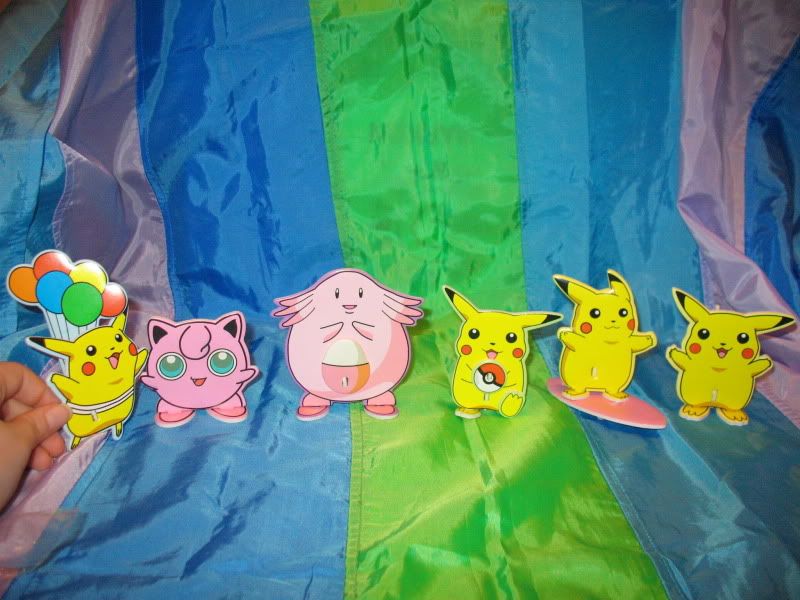 Foam Standees - $2.00 each
Charms and Keychains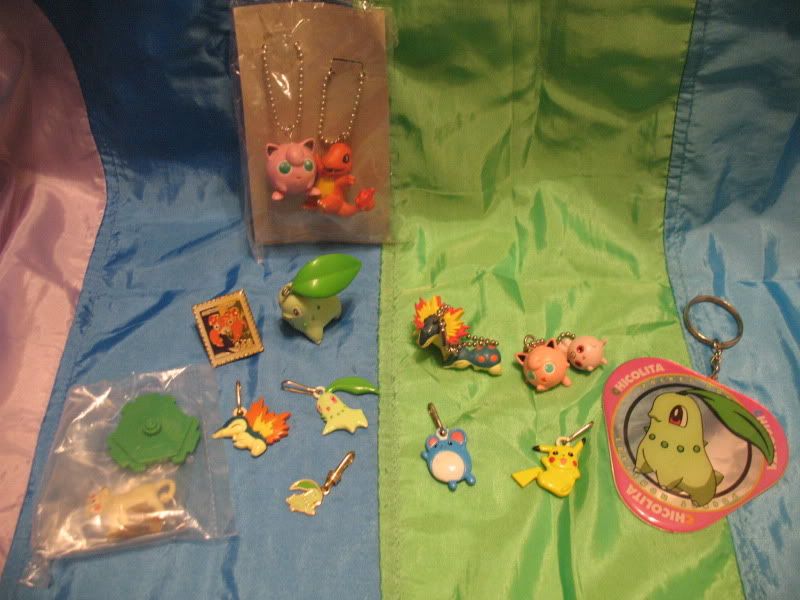 Persian FCS Figure(Yeah, I know it's not a charm or keychain.) - $1.00
Paras Stamp Pin - $2.00Cyndaquil Zipper Pull - $5.00Chikorita Zipper Pull - $5.00
Smaller Chikorita Zipper Pull - $7.00
Marrill Zipper Pull - $5.00
Pikachu Zipper Pull - $3.00
Jigglypuff Keychain - $2.00
Charmander Keychain - $2.00
Typholusion and Cyndaquil Keychain(Willing to separate) - $5.00 or $3.00 eachJigglypuff and Igglybuff Keychain(Willing to separate) - $3.00 or $2.00 each
Large Chikorita Keychain - $5.00
Playsets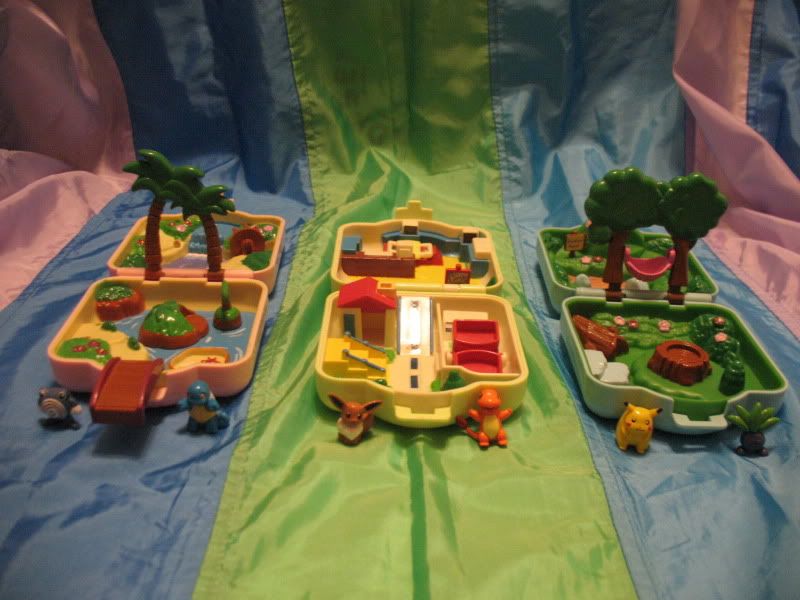 Forest Playset - $4.00
(The other two are sold.)
Burger King Toys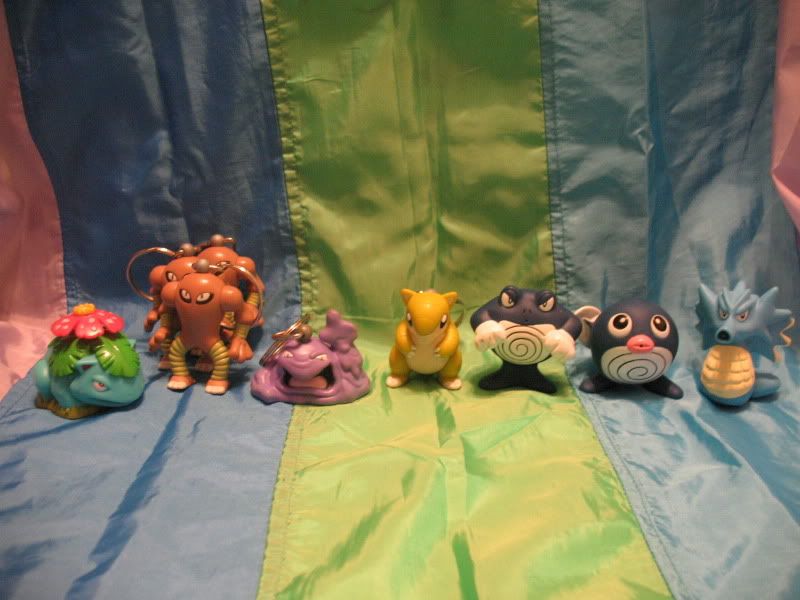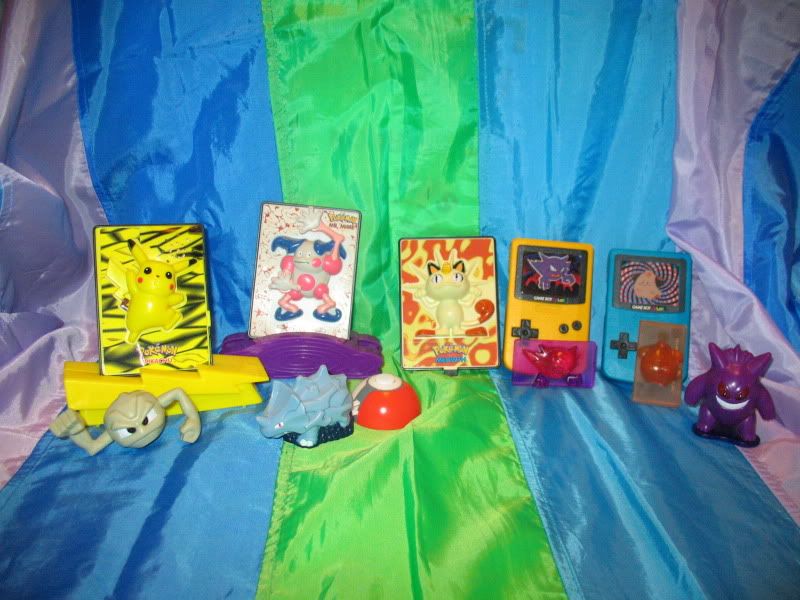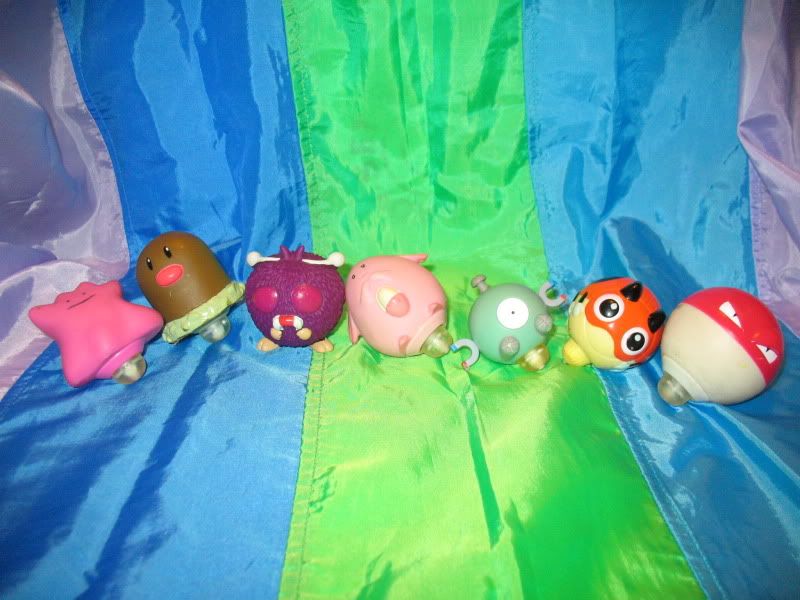 $1.00 each. The tops are pretty beat up, so they are $0.50 each.
SOLD: Gengar, Hauter Gameboy, Haunter plastic card thing, Sandshrew keychain.
Flats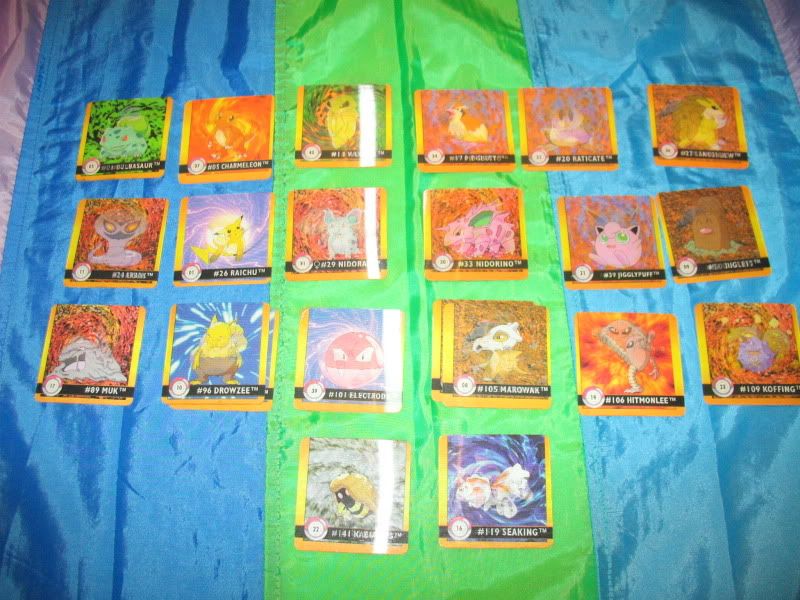 Whatever these are called - $1.00 each